Welcome to the Australian American Leadership Dialogue
Phil Scanlan AM – Founder
The Australian American Leadership Dialogue (AALD) is a private diplomatic initiative, which brings together Australian and American leaders from government, enterprise, media, education and the community to help review and refine the parameters of the Australian-American bilateral relationship.
Australia's relationship with the United States is a cornerstone of their global engagement. As Australia's number one strategic and economic partner, the United States is critical to Australia's capacity to enhance regional security and help underwrite economic and cultural prosperity, not only for Australians and Americans, but for the entirety of the Indo Pacific region. A strengthened Australian-US partnership enables us to contribute to a robust, stable and economically healthy world. Yet there are stresses in the bilateral relationship, which are not in Australia's, or the region's, interests. These stresses demand careful and sober engagement.
September 2021
Play Video
Phil Scanlan's opening address to the 2020 AALD Virtual Forum
2022 Honolulu Leadership Dialogue
The New Paradigm for 21st Century US-Australia Collaboration: Building a Stable and Prosperous Indo-Pacific
The 15th Honolulu Leadership Dialogue was the first in-person dialogue held in Honolulu since 2019, and reflecting the enthusiasm for meeting face-to-face once again, it was our largest ever delegation to Honolulu with almost 50 participants. Led by Chair of the Parliamentary Joint Committee on Intelligence and Security, Peter Khalil MP, and Shadow Minister for Cyber Security and Countering Foreign Interference, Senator James Paterson from the Australian Parliament, and a strong Defence contingent including Lieutenant General John Frewen DSC AM, Major General Matthew Pearce AM, Air Vice Marshal Darren Goldie AM, Rear Admiral Jonathan Early CDC, Rear Admiral Katherine Richards and Director-General of the Australian Signals Directorate, Rachel Noble PSM.  We were also delighted to have US Deputy Assistant Secretary for East Asian and Pacific Affairs, Mark Lambert join the delegation.
The 2022 HLD included close engagement with US Indo-Pacific Command, led by Admiral John Aquilino and dialogue with the East-West Center. The purpose, resonance and need for the Honolulu Leadership Dialogue have never been more urgent and the delegation explored the increasingly challenging role that Australia and the United States have to play, in partnership with our allies, to foster peace, prosperity and stability across the vast Indo-Pacific.
The delegation also had the privilege of visiting the Defence POW/MIA Accounting Agency to learn about its vital mission to identify, recover and repatriate and paid our respects at the National Memorial Cemetery (Punchbowl) and the USS Arizona Memorial.
The 2022 Honolulu Leadership Dialogue was a success on so many levels, and we would like to acknowledge our program partners – US Indo-Pacific Command, the East-West Center, the University of Hawaii and the Australian Consul-General, as well as our valued AALD partners, who are integral to the successful delivery of all Leadership Dialogues.
You can read more about the 2022 Honolulu Leadership Dialogue in this article from the Age (19/10) by Rowan Callick – Team of Nations to Tackle Region's Historic Challenge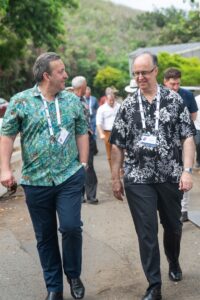 30th Anniversary Australian American Leadership Dialogue Forum:
POWER OF PARTNERSHIP: FORGING NEW PATHWAYS
The AALD  celebrated its  30th  Anniversary Forum , July 12-14, in Washington, DC.
More than  200 Australian and US leaders  from government, defence and security, business ,  trade and academia  participated  in a three  day  multi-tiered ,in person program. 
Delegates included strong support from the newly elected Australian Government and the Opposition, bipartisan representation from US Congressional leaders, US Cabinet and diplomats from both countries. The delegation also included  more than 80  leaders from the acclaimed Young Leadership Dialogue  and Young Leadership Dialogue Alumni.
The 2022 AALD  30th Anniversary Forum focused on   what  we have achieved in the past three decades and to reinforce our commitment  to review and refine the parameters of the  Australian – American    bilateral    relationship   at this critically important  time.  Delegates had  the opportunity  to  test, develop and leverage ideas that move our countries  forward  more powerfully in purposeful partnership.
The AALD  30th Anniversary Forum was a  huge success on so many levels highlighted  by the return of meeting in person after  more than two years of  AALD virtual meetings. Our AALD  Forum once again provided  the unique  opportunity to reconnect in person  in a safe and  trusted  environment  with  leaders who will continue to foster and nurture the bilateral relationship   between Australia and the US  over the next 30 years and beyond.