Welcome to the Australian American Leadership Dialogue
Phil Scanlan AM – Founder
The Australian American Leadership Dialogue (AALD) is a private diplomatic initiative, which brings together Australian and American leaders from government, enterprise, media, education and the community to help review and refine the parameters of the Australian-American bilateral relationship.
Australia's relationship with the United States is a cornerstone of their global engagement. As Australia's number one strategic and economic partner, the United States is critical to Australia's capacity to enhance regional security and help underwrite economic and cultural prosperity, not only for Australians and Americans, but for the entirety of the Indo Pacific region. A strengthened Australian-US partnership enables us to contribute to a robust, stable and economically healthy world. Yet there are stresses in the bilateral relationship, which are not in Australia's, or the region's, interests. These stresses demand careful and sober engagement.
September 2021
Play Video
Phil Scanlan's opening address to the 2020 AALD Virtual Forum
2023 Young Leadership Dialogue
Canberra Retreat
50 outstanding YLD delegates participated in the 2023 YLD AU Retreat at Australian Parliament House in March. The three-day program was robust, creative and challenging including private, closed-door briefings with parliamentarians on leadership, democracy, indigenous issues, defence, trade, climate and energy.
Australian American Leadership Dialogue Young Leadership Dialogue event, Parliament House, Canberra, 23 March 2023. Photos by Sean Davey.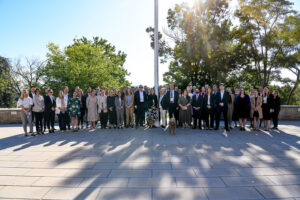 2022 Honolulu Leadership Dialogue
The New Paradigm for 21st Century US-Australia Collaboration: Building a Stable and Prosperous Indo-Pacific
The 15th Honolulu Leadership Dialogue was the first in-person dialogue held in Honolulu since 2019, and it was our largest ever delegation to Honolulu.
The 2022 HLD included close engagement with US Indo-Pacific Command,  the East-West Center and the University of Hawaii. The purpose, resonance and need for the Honolulu Leadership Dialogue have never been more urgent and the delegation explored the increasingly challenging role that Australia and the United States have to play, in partnership with our allies, to foster peace, prosperity and stability across the vast Indo-Pacific.
You can read more about the 2022 Honolulu Leadership Dialogue in this article from the Age (19/10) by Rowan Callick – Team of Nations to Tackle Region's Historic Challenge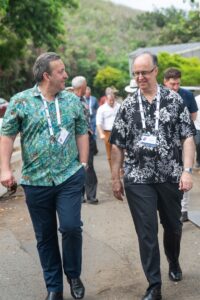 30th Anniversary Australian American Leadership Dialogue Forum:
POWER OF PARTNERSHIP: FORGING NEW PATHWAYS
The AALD  celebrated its  30th  Anniversary Forum in July, in Washington, DC. More than  200 Australian and US leaders  from government, defence and security, business,  trade and academia  participated  in a three  day  multi-tiered ,in person program. 
The 2022 AALD  30th Anniversary Forum focused on   what  we have achieved in the past three decades and to reinforce our commitment  to review and refine the parameters of the  Australian – American    bilateral    relationship   at this critically important  time.  Delegates had  the opportunity  to  test, develop and leverage ideas that move our countries  forward  more powerfully in purposeful partnership.